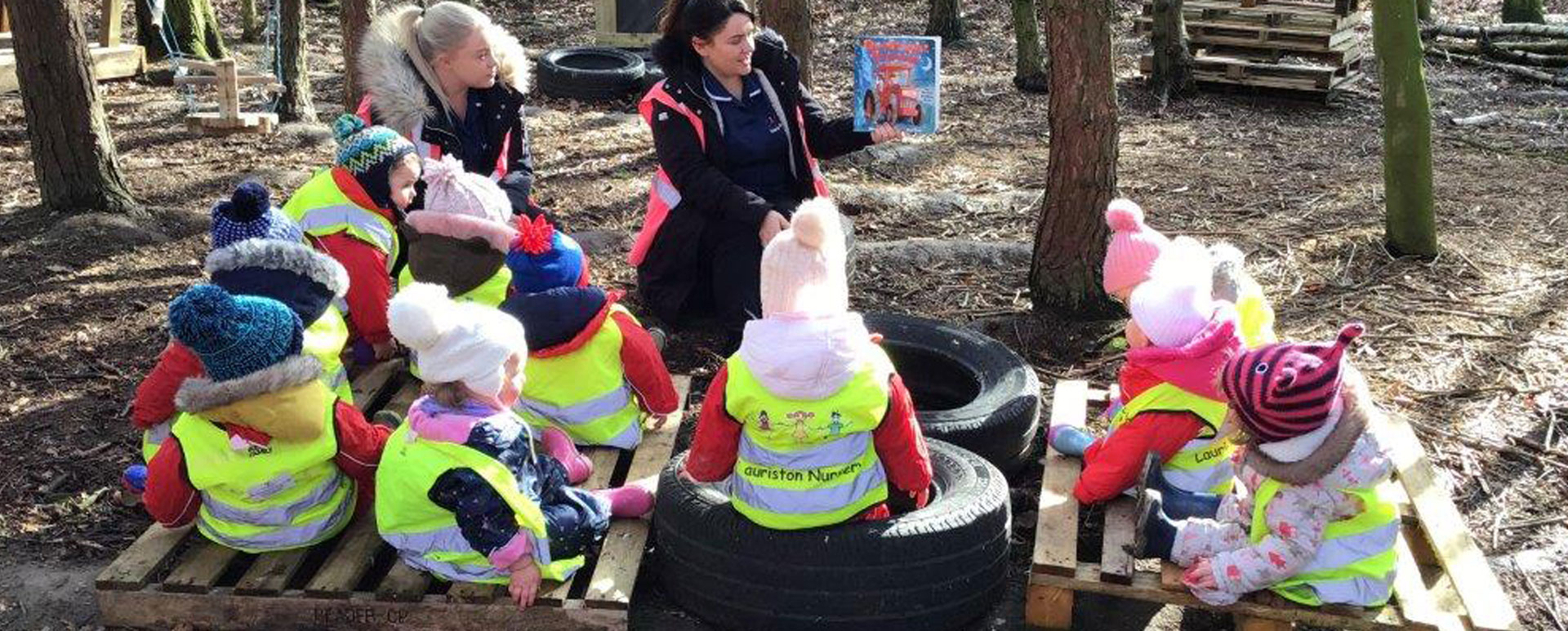 Playing in the mud, making daisy chains and climbing trees are simple pleasures that have defined childhood for generations. But such youthful pursuits appear to be dying out as an increasing number of children play computer games instead.
Parents are not helping much to change this for better. Children are often criticized for getting dirty while playing in the park or garden, for coming home from play with grass or mud stains on trousers and T-shirts. Though this situation may be frustrating to many parents, we often neglect the fact that it's in child's nature to run around and get most of the fun with their friends outside. Yes, they just love outdoor games.
Speaking about outdoor activities and children, have you ever heard about forest schools? Yes, you heard well – forest schools. It is a type of school where a school day would take place in a wood/ forest or a suitable outdoor space, where a child participates in life skills, such as learning personal, social and technical skills.
For sure, it's a quite different approach to learning to what we have been used to.
The forest school movement has a philosophy of child-led learning, with a focus on all the senses. The aim is to foster rich learning experiences, ecological literacy, and healthy living by connecting children to nature. In Britain, the forest school has been defined as "an inspirational process that offers children, young people and adults regular opportunities to achieve, and develop confidence and self-esteem through hands-on learning experiences in a woodland environment". Therefore, it is something different and new, but I believe it's beneficial for kids to have these kind of things in their early childhood. It gives them something that they don't have nowadays – connection to nature, and to themselves.
Forest Schools Curriculum and Philosophy
Forest school curriculum is child-directed and play-based. The forest school allows learners the time and space to develop their interests, skills, and understanding through practical, hands-on experiences.
At a forest school, children have the freedom to explore, play, build, create, imagine, and use their senses to experience the outdoor environment and engage with one another. The sessions are carefully planned, led by trained forest school practitioners and take place outside the classroom in all weathers in local forests, creeks, meadows, mountains or shorelines.  In the sessions, children can sing around the fire, learn to use and make tools, build dens, dig in the mud, identify bugs with magnifying glasses or retreat to the tent for reading and puzzles.
At Forest School all participants are viewed as:
Equal, unique and valuable
Competent to explore and discover
Entitled to face appropriate risk and challenges
Entitled to experience regular success
Entitled to develop positive relationships with themselves and other people
Entitled to choose, to initiate and drive their own learning process and development
By participating in engaging, motivating and achievable tasks and activities in a woodland environment each participant has an opportunity to develop intrinsic motivation, balanced emotional and social skills. These, through self awareness, can be developed to help reach personal potential.
Why Forest Schools?
Wakelin McNeel and H.L. Rusell originally developed forest school concept in 1927 and the first forest schools were located in Laona, Wisconsin, USA. The aim of this program was to improve literacy and logical-mathematical intelligence of children in American schools. Later in the 1950s, the idea was introduced in Sweden, Denmark and other countries of Europe. Forest school is currently taking place in Australia, Canada, New Zealand, Malaysia, Switzerland, Ireland, Germany, UK, Sweden and Denmark as an embedded part of the curriculum for pre-school children.
The latest research shows that today's children are under too much academic pressure and they know little about the world outside the classroom, in spite of their good grades. The obesity among the youngest is constantly increasing, and many kids suffer from attention deficit disorders, hyperactivity or depression. This probably comes as a result of growing social isolation in early preschool age and lack of stimulating environment to foster their comprehensive development. Unstructured and free outdoor play has been replaced with boring school curriculum and long screen time at home. Modern society limits any sort of physical activity and positive feelings nature provokes. This is something we definitely have to change.
Therefore, it wouldn't be a surprise to have forest schools in Serbia too. Every parent should understand the children's need to spend time outdoors, to engage with nature, enjoying the fresh air and having free play, everything this school model represents. Therefore, it should be introduced in every educational system in order to meet children's needs and help them overcome various developmental difficulties.
If you agree this is something worth considering, take your child to the nearby park for the start, no matter whether it rains or snows, and let him experience a little piece of happiness.