The Winner of the national One Planet Picnic Pocket Garden Design Competition for 2019 is Lauriston Nursery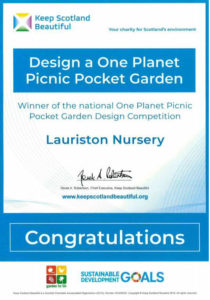 Inspired by their visits to the children's local park, a waterfall of flowers feeds the burn that runs through it. The burn is bordered by damp loving ferns and fruit trees of the park are also recreated here as well as a mini picnic bench to enjoy the place and food. Here's a miniature version of Pittencrieff Park that the children visited for inspiration. A blue flower waterfall flows into a burn like the one in the park. Plants that thrive in the park and mini versions of favourite features are in this garden too.
You can read more here from Keep Scotland Beautiful!